Main 18
Blue Tees
White Tees
Red Tees
Pro Shop 9
White Tees
Red Tees
There is a new process when posting max scores per hole with the new World Handicap System. In the past your max score was double bogey, 7,8,9, or 10 depending on your handicap. To make this system a little more equitable regarding par 5s vs par 3s, the maximum score you can now take on any hole is a net double bogey. This means that you must know where your handicap strokes fall on any given hole. Instead of explaining the process to figure out where your strokes fall on the scorecard (we will do this later), we have created a sheet that will tell you exactly what your max score is for any hole here at Silvermine. Below is an illustration of how to use them using a person playing off a Handicap Index (HI) of 18.0 from the Middle Tees.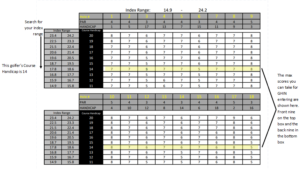 For example, if this player makes a 7 on the 3rd hole, 7 is written down on the card  but they should change it to 5 for GHIN posting.
There is also an option when posting scores on the GHIN app to enter your actual hole by hole score, and the app will adjust your score automatically.
Please see the charts at the top of the page for your handicap range and tee, the charts are color coded by the color of the tee markers.